Supplies Provided Assure A Successful
FUN or FUND-RAISING Event!

The Number Narration Kits & Past Performance Kit
come with supplies for 200 guests to play A Nite At The Races.

Here's What We Provide With Your Rental: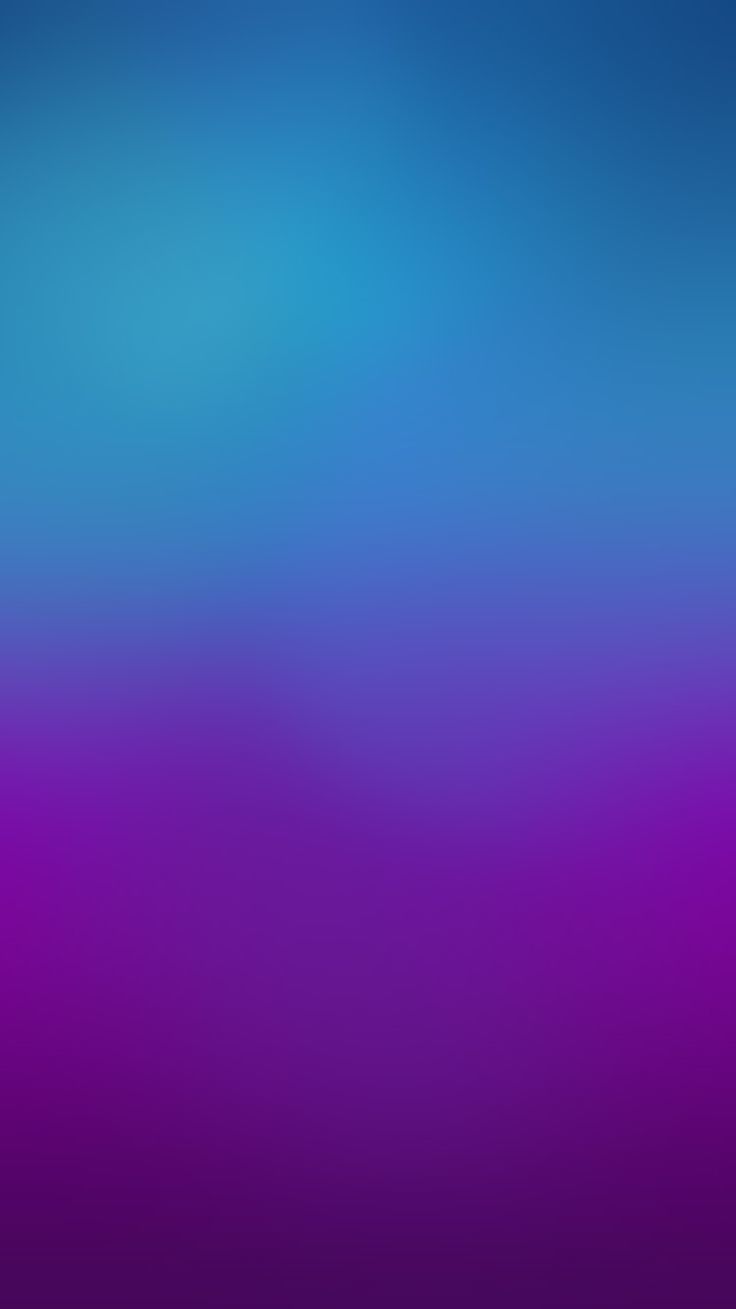 (Click on any image to enlarge)
200 Souvenir Race Programs

Procedures & Instructions

​​

A simple step-by-step approach on how to play the Race Kit of your choice.

Upon request, included within your Racing Kit is fifteen hundred (1,500) Funny Money bills in the  $1.00 denomination.  In addition to $1.00 bills,  Funny Money is available for sale in $2.00, $5.00, or $10.00 bills.  Funny Money is prepackaged 500 bills per denomination and each denomination has it's own distinct color to facilitate handling.  We are sorry, but we do not substitute other denominations in place of the $1.00 bills.

​
​​
One 23" x 29" Tote Board Poster is included.  This Tote Board is displayed during the event and used to log the winning horse numbers and their Funny Money payout.
​​Computation (Control) Sheets are used to compute the payoff for each of the races and the Daily Double.  When additional races and optional games (Quinella, Exacta, Numeracta, etc.) are purchased, the Ticket Computation (Control) Sheets are included for each.

​​
A time-saving, fool-proof Computation Payoff Chart for determining the payoffs for each race.  A quick glance gives you the correct payoff on each horse in a race without the use of a calculator.  Chart is also used for computing the payoffs for all optional games.
A
quick reference pocket guide that gives your Master of Ceremonies (MC) step by step suggestions in sequential order.  While being a Master of Ceremonies might seem like a daunting task, this Pocket Guide offers an easy to follow script that will enable your MC to add their personal flare and keep the event flowing smoothly for all.
​​​​

Upon request, the Race Programs included with the Number Narration Kit(s) list the horse by number and provide funny/comical names for each horse with a humorous description.
​
​
​
​
​
​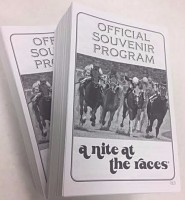 ​​​​

The Race Programs provided with the Past Performance Kit. show the horses actual name and contain true and authentic statistics as to the day and month each horse has run in several prior outings, the track raced on, time of winner, track condition, weight carried, past position, speed rating, sex, color, and the win/place/show record among other vital information.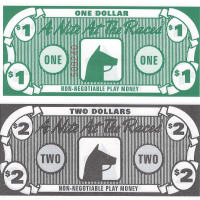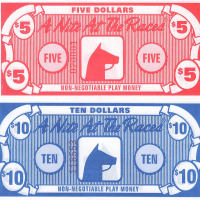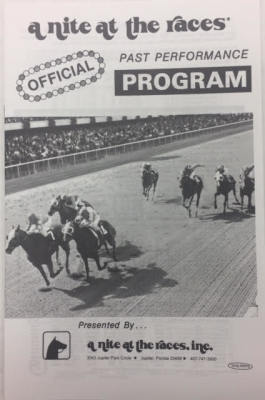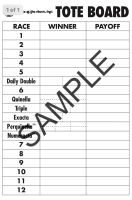 These are the "betting" tickets.  You will receive 2 sets 

for each race purchased.  

The affixed tickets are perforated for easy removal.  There are 25 tickets per board, numbered "00" thru "24".   At a glance, you can tell exactly how many tickets have been sold on each horse, for quick and easy computation once the betting windows have been declared closed.

​
Please note:
  Win, Place, and Show Mutuel Tickets are differentiated by ink color. 

We suggest playing the Daily Double in the 4th and 5th race.  To win the Daily Double, you must select the horse that wins the 4th and the 5th Race.  The Daily Double is a separate bet. 
The Daily Double tickets come in pad form with 200 two-part serial numbered, perforated tickets.  One part is presented to the player and the other part is retained by the Ticket Seller for verification and control.  The serial number of the very first ticket of each pad ends with a "00" digit.  A quick glance at the serial number of the ticket which remails unsold will give you an accurate count of the total number of tickets sold for easy compuation of the Daily Double game.
​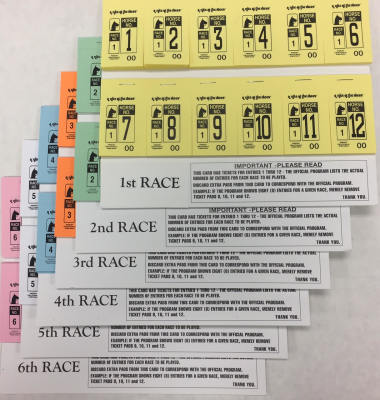 Ticket Computation (Control) Sheets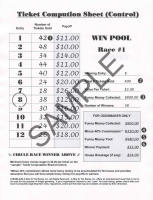 Pocket Guide & Suggested Procedures